Showroom of mel-whv (1488)
Alles fing im August 2013 an - die erste Coin - Mega Prora! Dann kamen vereinzelt welche dazu....und heute??


Heute geht es nicht mehr ohne!!


Dabei ist der Wert nicht wichtig - die Coin muss gefallen, das Thema muss passen, oder sie kommt einfach nur zur richtigen Zeit!


Irgendwann der Wunsch nach einer eigenen Coin:
Mein Projekt / My project!! Prypjat Geocoin!!
--------------

Blowout Ed. RE (01-2018 - 110 St. / 06-2020 - 25 St.)


Die Blowout Edition kommt mit dem black nickel und dem feuerroten Skyline-Bild so dunkel und bedrohlich rüber, wie die Katastrophe 1986 seinerseits. Die Farbwahl fiel also bewusst auf diese Mischung.
Returning Light Ed. LE (01-2018 - 90 St.)


Bei der Returning Light Edition war die Einkehr der Natur in die Stadt und das Aufhellen der ganzen Situation viele Jahre nach der Katastrophe die Überleitung, daher auch hier keine schwarze sondern eine antique nickel Coin.
Visited Prypjat Ed. SE (01-2018 - 60 St. / 03-2018 - 40 St. / 06-2020 - 25 St.)


Die Visited Prypjat Edition wiederum sollte warnend mit den Neon-Farben herüberkommen, die gelbe Skyline analog zum Radioaktiv-Logo auf der Vorderseite.
Remembering 1986 Ed. XLE (26-04-2019 - 50 St.)


Es gibt eine weitere - die 4. - Edition dieser Coin - Remembering 1986 Edition! Anlässlich des 33. Jahrestages der Katastrophe kommt diese Edition heraus. Das antique copper soll den Lost-Place-Charakter des Ortes widerspiegeln, das Blau sollte sich als Kontrast vom Rest der Coin abheben und durchaus Hoffnung auf weitere Erholung der Natur vermitteln!
Desolated Ed. LE (06-2020 - 75 St.)


Jetzt gibt es noch zwei weitere - hier die 5. Edition - dieser Coin - Desolated Edition! Sie ist komplett farblos gehalten und schließt die Lücke zwischen der Katastrophe (Blowout) und der Rückkehr der Natur (Returning Light) - absolute Dunkelheit und Stille nach dem Ablöschen des Reaktors und die Überlasung der Zone an sich selbst! Lediglich die Maske ist farbig und wirkt mit dem starken Rot nahezu bedrohlich.
Purple Rain Artist & Friend Ed. XLE (06-2020 - 50 St.)


Und hier die 6. Edition dieser Coin - Purple Rain Artist & Friend Editionin antik gold mit violettem Reaktorbild.Regen war eines der Elemente, das die Welt verändert hat; 1986 waren die Medien noch komplett anders als heutzutage und man war auf die wenigen Dinge angewiesen, die man erfahren konnte - und vor Regen sollten wir uns unbedingt schützen!
Design by Claudia Siebauer / mygeocoin.de - Thanks Claudia - Fantastic Coins!!
Idea by André Helling / mel-whv - before travelling to Prypjat May 2018
----------------------------------------------------------------------
Seattle, Sep 09, 2019 - 5:30PM
Event @ Gasworks Park attended by Moun10Bike
#1401 given to mel-whv - Thanks, Jon!!

----------------------------------------------------------------------
Aug 04, 2020 - 4:45PM added
#1233 to my collection!!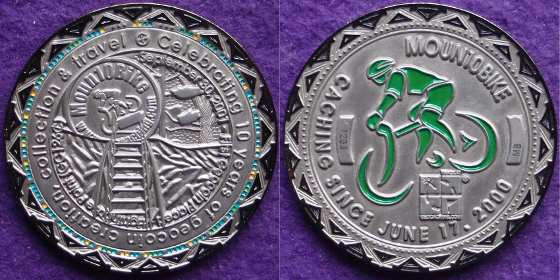 Moun10Bike - The Father of Geocoins

| | Icon | Infocode | Picture | Name | |
| --- | --- | --- | --- | --- | --- |
| | | TBQMBH | | Moun10Bike Geocoin #1233 | Version #5 |
| | | TBQCHK | | Moun10Bike Geocoin #1401 | Version #6 - got it directly from Moun10Bike Sep 09, 2019 |

Groundspeak Seattle Lackeys Personals

| | Icon | Infocode | Picture | Name | |
| --- | --- | --- | --- | --- | --- |
| | | TB5WN1R | | mel-whv's Love Geocoin | |
| | | TB4T6ZP | | mel-whv's Roth Anniversary Geocoin | |
| | | TB2Y2BK | | mel-whv's Roths Anniversary Event Geocoin 2006 | |
| | | TB2F2VT | | mel-whv's Good Jeremy Geocoin | |
| | | TB6TWV3 | | mel-whv's LackeyBenno 5 Year Geocoin | |
| | | TB51CJ3 | | mel-whv's OpinioNate Geocoin | |
| | | TB70C3X | | mel-whv's Raine "Like the Weather, With an E" Geocoin V2 | |
| | | TB1H21D | | mel-whv's Raine V1 Geocoin | |
| | | TB87FC9 | | mel-whv's Roths 15 Year Anniversary Event Geocoin | Got it directly from Bryan Roth @ Mega GC7TKKG on Feb 29, 2020 |

Groundspeak Lackeys General

| | Icon | Infocode | Picture | Name | |
| --- | --- | --- | --- | --- | --- |
| | | TB1YG2Q | | mel-whv's 2007 Groundspeak Lackey Geocoin | |
| | | TB20EMP | | mel-whv's 2008 Groundspeak Volunteer Geocoin | |
| | | TB3P95H | | mel-whv's 2010 Groundspeak Lackey Geocoin | |
| | | TB5T4PA | | mel-whv's 2012 Lackey Coin Geocoin | |
| | | TB7DZGB | | mel-whv's 2015 Lackey Geocoin | |
| | | TB82QEW | | mel-whv's 2016 Lackey Geocoin | |
| | | TB8R7YM | | mel-whv's Geocaching HQ Lackey 2017 Geocoin | |
| | | TB91ZK8 | | mel-whv's Geocaching HQ Lackey 2018 Geocoin | |
| | | TB9C7XA | | mel-whv's Geocaching HQ Lackey 2019 Geocoin | |
| | | TB34JGB | | mel-whv's Groundspeak Lackey 2009 Geocoin | |
| | | TBT4ZK | | mel-whv's Groundspeak Lackey Geocoin | |
| | | TB6W1KK | | mel-whv's HQ Logbook Geocoin 2014 | |
| | | TB4J1G9 | | mel-whv's Lackey '11 Geocoin | |
| | | TB9P64A | | mel-whv's Geocaching HQ 2020 Lackey Geocoin | |
| | | TB644XK | | mel-whv's HQ Logbook Geocoin 2013 | |

Groundspeak Volunteer Awards & Presents

| | Icon | Infocode | Picture | Name | |
| --- | --- | --- | --- | --- | --- |
| | | TB8KMNE | | mel-whv's 2017 Volunteer Geocoin - Above and Beyond | |
| | | TB7Q6AW | | mel-whv's Community Volunteer Retirement Watch | 130 mm !!! |
| | | TB85T0M | | mel-whv's Friend of the Frog Geocoin | |
| | | TB5E0TV | | mel-whv's Obey 2012 Geocoin | |
| | | TB4TZ2X | | mel-whv's Reviewer's Watering Hole Geocoin | |
| | | TB784T2 | | mel-whv's Supporting The Game Volunteer Geocoin | |
| | | TB71EYD | | mel-whv's Volunteer Compass Geocoin | |
| | | TB5G6KR | | mel-whv's 10 Year Reviewer Award Coin – gpsfun | |
| | | TB91361 | | mel-whv's 2018 Volunteer Geocoin | |
| | | TB7KNYC | | mel-whv's Signal Bottle Opener Geocoin | |
| | | TB4TJJ6 | | mel-whv's Volunteer Geo-Award Geocoin | |
| | | TBP3NB | | mel-whv's Volunteer Geocoin | |

Groundspeak Volunteers & Reviewers Personals

| | Icon | Infocode | Picture | Name | |
| --- | --- | --- | --- | --- | --- |
| | | TB1T09N | | mel-whv's erik88L-R Geocoin | |
| | | TB2QB8R | | mel-whv's Cache Effect 2009 Geocoin | |
| | | TB1XR35 | | mel-whv's Cache Maru Geocoin | |
| | | TB92N74 | | mel-whv's Isht Kinta Reviewer Geocoin | |
| | | TB17EAV | | mel-whv's mtn-man Admin Brick Geocoin | |
| | | TBYNJR | | mel-whv's mtn-man Admin Brick Geocoin | |

German Reviewer Series

| | Icon | Infocode | Picture | Name | |
| --- | --- | --- | --- | --- | --- |
| | | TB8Q155 | | mel-whv's (RO Edit.) 10 Years German Reviewer Geocoins | |
| | | TB2PKQK | | mel-whv's (RO edit.) 2008 German Reviewer Geocoin | |
| | | TB608FH | | mel-whv's (RO Edit.) German EarthCache Reviewer Coin | |
| | | TB6P4C8 | | mel-whv's (RO Edit.) German Reviewer Geocoin - 161m Tool | |
| | | TB3A4YR | | mel-whv's (RO Edit.) German Reviewer Geocoin - 2010: German Reviewers At Work | |
| | | TB45YX7 | | mel-whv's (RO Edit.) German Reviewer Geocoin - 2011 | |
| | | TB526AJ | | mel-whv's (RO Edit.) German Reviewer Geocoin - 2012 - It's just a game! | |
| | | TB23A6F | | mel-whv's (RO Edit.) German Reviewer Geocoin - "…German Reviewer Team" | |
| | | TB7Y3VK | | mel-whv's (RO Edit.) German Reviewer Geocoin - Inspection Tool | |
| | | TB954J8 | | mel-whv's (RO Edit.) German Reviewer Geocoin 2018 - both sides of the medal | |
| | | TB7BBPX | | mel-whv's (RO Edit.) German Reviewer Geocoin -­ Stamp Tool | |
| | | TB9DM5R | | mel-whv's (RO Edit.) German Reviewer Backup Geocoin 2019 | |
| | | TB9MXZW | | mel-whv's (RO Edit.) German Reviewer sagen Danke Geocoin 2020 | |
| | | TB62TRR | | mel-whv's (RO Edit.) German Reviewer Geocoin – Vom Gipfelkreuz zur Waterkant! | |

Signal Officials

| | Icon | Infocode | Picture | Name | |
| --- | --- | --- | --- | --- | --- |
| | | TB17TPW | | mel-whv's Signal Geocoin - Dec 06 | |
| | | TB13JZR | | mel-whv's Signal Geocoin - Jun 06 | |
| | | TBYEW6 | | mel-whv's Signal Geocoin - March 06 | |
| | | TB17HKT | | mel-whv's Signal Geocoin - Nov 06 | |
| | | TB878T3 | | mel-whv's Holiday Geocoin 2016 | |
| | | TB8R3NC | | mel-whv's Holiday Geocoin 2017 | |
| | | TB5C98Y | | mel-whv's Signal Christmas Ball Geocoin | |
| | | TB94REJ | | mel-whv's Signal Christmas Geocoin | |
| | | TB10X83 | | mel-whv's Signal Geocoin - Apr 06 | |
| | | TB1G259 | | mel-whv's Signal Geocoin - Apr 07 | |
| | | TB13J1V | | mel-whv's Signal Geocoin - Aug 06 | |
| | | TBVZZT | | mel-whv's Signal Geocoin - Feb 06 | |
| | | TB1G0BB | | mel-whv's Signal Geocoin - Feb 07 | |
| | | TB1FZ24 | | mel-whv's Signal Geocoin - Jan 07 | |
| | | TB13NFH | | mel-whv's Signal Geocoin - Jul 06 | |
| | | TB13PFP | | mel-whv's Signal Geocoin - May 06 | |
| | | TB17WE9 | | mel-whv's Signal Geocoin - Oct 06 | |
| | | TB17T4Z | | mel-whv's Signal Geocoin - Sep 06 | |
| | | TB5FEKP | | mel-whv's Signal Holiday 2012 Geocoin | |
| | | TB579ZF | | mel-whv's Signal Phone Home Geocoin | |
| | | TB24HJH | | mel-whv's What Would Signal Do? Geocoin | |

Geocaching Trifecta - The Ultimate Adventure

| | Icon | Infocode | Picture | Name | |
| --- | --- | --- | --- | --- | --- |
| | | TB8KJQ6 | | mel-whv's Geocaching Trifecta Geocoin | |
| | | TB2XTEJ | | mel-whv's GeoTriad Geocoin | |
| | | TB8Q28G | | mel-whv's Ultimate Geocaching Trifecta Geocoin | |

Groundspeak HQ and Around

| | Icon | Infocode | Picture | Name | |
| --- | --- | --- | --- | --- | --- |
| | | TB7PXZQ | | mel-whv's 2016 Event Benchmark Geocoin - Groundspeak HQ | |
| | | TB98VMR | | mel-whv's Geocaching HQ Geocoin | |
| | | TB901WP | | mel-whv's Geocaching HQ Treasure Chest Geocoin | |
| | | TB8Q0H3 | | mel-whv's HQ GeoTour Geocoin | |
| | | TB4NG3W | | mel-whv's Sleepless in Seattle Geocoin | |
| | | TB939RZ | | mel-whv's Visit Geocaching HQ Geocoin | |
| | | TB4PNNM | | mel-whv's Washington State Spinner Geocoin | |

The First Stash

| | Icon | Infocode | Picture | Name | |
| --- | --- | --- | --- | --- | --- |
| | | TB3JMYN | | mel-whv's "ORIGINAL Can of Beans Geocoin" | |
| | | TB8Z6KN | | mel-whv's Original Can of Beans Geocoin | |
| | | TB1KDGN | | mel-whv's Original Stash 7th Anniversary Geocoin | |
| | | TB9N4E8 | | mel-whv's 20 Years of Geocaching Original Bucket Set - The Bucket | |
| | | TB9N50V | | mel-whv's 20 Years of Geocaching Original Bucket Set - The Can of Beans | |
| | | TB9N65D | | mel-whv's 20 Years of Geocaching Original Bucket Set - The Slingshot | |
| | | TB9N5RW | | mel-whv's 20 Years of Geocaching Original Bucket Set - The Video Cassette | |
| | | TB10DAH | | mel-whv's Original Stash Geocoin | |

Project A.P.E. - Mission #9: The Tunnel of Light

| | Icon | Infocode | Picture | Name | |
| --- | --- | --- | --- | --- | --- |
| | | TB92MA1 | | mel-whv's Ape cache is alive Geocoin | |
| | | TB6TJVK | | mel-whv's Ape Cache MEGA Geocoin | |
| | | TB5A4NF | | mel-whv's Going APE 2012 Geocoin | |
| | | TB5Z181 | | mel-whv's Going APE 2013 Geocoin | |
| | | TB6N48J | | mel-whv's Going APE 2014 Geocoin | |
| | | TB7CPMH | | mel-whv's Going APE 2015 Geocoin | |
| | | TB8349H | | mel-whv's Going APE 2016 Geocoin | |
| | | TB8GTTN | | mel-whv's Going Ape 2017 Geocoin | |
| | | TB90VAP | | mel-whv's Going Ape 2018 Geocoin | |
| | | TB9B5C7 | | mel-whv's Going APE X Geocoin | |
| | | TB15N41 | | mel-whv's Project A.P.E. Geocoin | |
| | | TB3YVMN | | mel-whv's Project A.P.E.: Tunnel of Light Geocoin | |
| | | TB9Q6J3 | | mel-whv's WSGA Project Ape Ticket | |

Self-Created: Prypjat Geocoin (6 Edit.)

| | Icon | Infocode | Picture | Name | |
| --- | --- | --- | --- | --- | --- |
| | | TB8T5CQ | | mel-whv's Prypjat Geocoin - Blowout Ed. | |
| | | TB8T5FZ | | mel-whv's Prypjat Geocoin - Returning Light Ed. | |
| | | TB8T5E1 | | mel-whv's Prypjat Geocoin - Visited Prypjat Ed. | |
| | | TB9JKDN | | mel-whv's Prypjat Geocoin - Desolated Ed. | |
| | | TB9JKGK | | mel-whv's Prypjat Geocoin - Purple Rain Artist & Friend Ed. | |
| | | TB97WDT | | mel-whv's Prypjat Geocoin - Remembering 1986 Ed. | |

Self-Created: Prypjat Geocoin (3 Edit.) - SAMPLES

| | Icon | Infocode | Picture | Name | |
| --- | --- | --- | --- | --- | --- |
| | | | | SAMPLE: mel-whv´s Prypjat Geocoin - Blowout Ed. | |
| | | | | SAMPLE: mel-whv´s Prypjat Geocoin - Returning Light Ed. | |
| | | | | SAMPLE: mel-whv´s Prypjat Geocoin - Visited Prypjat Ed. | |

Mega & Giga Events

| | Icon | Infocode | Picture | Name | |
| --- | --- | --- | --- | --- | --- |
| | | TB9GGGP | | mel-whv's Brockenevent Geocoin 2019 | |
| | | TB519XZ | | mel-whv's DIR 2012 Mega Geocoin | |
| | | TB8BTP6 | | mel-whv's Event am Meer 2017 Geocoin | |
| | | TB97B8G | | mel-whv's GC77777 - Skyline Coin - Containerbrücken | |
| | | TB97BMC | | mel-whv's GC77777 - Skyline Coin - Elbphilharmonie | |
| | | TB97DXJ | | mel-whv's GC77777 - Skyline Coin - Rathaus | |
| | | TB97E66 | | mel-whv's GC77777 - Skyline Coin - Speicherstadt | |
| | | TB97CNH | | mel-whv's GC77777 - Skyline Coin - St. Michaelis | |
| | | TB59BYT | | mel-whv's Geocoinfest Lisboa 2012 Geocoin | |
| | | TB7GRBC | | mel-whv's Going Caching 2015 Event Coin | |
| | | TB8KRME | | mel-whv's Going Caching 2017 Event Coin | |
| | | TB6WF8R | | mel-whv's Going Caching MMXIV Event Coin | |
| | | TB8CE13 | | mel-whv's I Love Geocaching Trackable | |
| | | TB8C1F3 | | mel-whv's Maije im Saarland - Schwenker Geocoin | |
| | | TB78PYG | | mel-whv's MEGA am MEER 2015 Event Geocoin | |
| | | TB3YGXB | | mel-whv's Mega Event Catalunya 2010 Geocoin | |
| | | TB2ZX6Z | | mel-whv's MOGA 2009 Geocoin | |
| | | TB69MZF | | mel-whv's MOGA 2014 Event Geocoin | |
| | | TB7WNA7 | | mel-whv's Project Glück Auf 2016 - Event Geocoin | |
| | | TB5XAYQ | | mel-whv's Prora 2013 MegaEvent Geocoin | |
| | | TB9H2M6 | | mel-whv's 3D Grubenlampe Geocoin | |
| | | TB3JWDZ | | mel-whv's Das Ulmer FORT 2010 Geocoin | |
| | | TB8245D | | mel-whv's Dat is Kowelenz - Kids Edition | |
| | | TB82437 | | mel-whv's Dat is Kowelenz - Kids Edition | |
| | | TB822YD | | mel-whv's Dat is Kowelenz 2016 | |
| | | TB823NC | | mel-whv's Dat is Kowelenz 2016 - Leinen los! | |
| | | TB9K8MG | | mel-whv's Event am Meer 2020 Event-Geocoin | |
| | | TB71APC | | mel-whv's Frühjahrsputz an der Henrichshütte Geocoin | |
| | | TB8V88Y | | mel-whv's Friends of MOGA 2018 Geocoin | |
| | | TB2YV2Q | | mel-whv's GEO FORTRESS First Austrian Mega Event Geocoin | |
| | | TB85867 | | mel-whv's Going Caching 2016 Event Book Coin | |
| | | TB8KTQG | | mel-whv's Going Caching 2017 Patron Coin | |
| | | TB92DMF | | mel-whv's Going Caching 2018 Event Coin | |
| | | TB92DW0 | | mel-whv's Going Caching 2018 G.H.O.S.T. Challenge Coin | |
| | | TB92ED9 | | mel-whv's Going Caching 2018 Patron Coin | |
| | | TB9BTJD | | mel-whv's Going Caching 2019 Event Coin | |
| | | TB9C0RQ | | mel-whv's Going Caching 2019 M.A.P. Challenge Coin | |
| | | TB4RK3J | | mel-whv's Going Coastal...Arrgh! Geocoin | |
| | | TB858YA | | mel-whv's Going Caching 2016 T.F.T.C. Challenge Coin | |
| | | TB4ER8J | | mel-whv's Lost in MV 2011 Geocoin | |
| | | TB7XPMN | | mel-whv's Mega CP@M'16 Trackable | |
| | | TB2ZR4Q | | mel-whv's Mega-Event 'Project ?G?A?M?E?' 2009 Geocoin | |
| | | TB5WEN7 | | mel-whv's MegaBerlin 2013 Geocoin | |
| | | TB67NH8 | | mel-whv's MegaBerlin Junior Geocoin | |
| | | TB6WJRA | | mel-whv's MegAdvent Geocoin 2014 | |
| | | TB47B8P | | mel-whv's MOGA 2011 Treasure Chest Geocoin | |
| | | TB51Y5V | | mel-whv's MOGA 2012 Event Geocoin | |
| | | TB5P9M5 | | mel-whv's MOGA 2013 Event Geocoin | |
| | | TB8VRQE | | mel-whv's MOGA 2018 Event Geocoin | |
| | | TB3NTPG | | mel-whv's Pinzgau 2010 Geocoin | |
| | | TB5W30Q | | mel-whv's Project Eck - Meet&Greet Event Geocoin | |
| | | TB5W80X | | mel-whv's Project Eck - Schiffs - Event Geocoin | |
| | | TB5W5A3 | | mel-whv's Project Eck Event Geocoin | |
| | | TB9H3JV | | mel-whv's Project Geocaching meets Beethoven Geocoin | |
| | | TB52FZB | | mel-whv's Project GeoGames 2012 Geocoin | |
| | | TB7WREX | | mel-whv's Project Glück Auf 2016 – GIGA-Geocoin | |

Block Party Events

| | Icon | Infocode | Picture | Name | |
| --- | --- | --- | --- | --- | --- |
| | | TB5AD8M | | mel-whv's Block Party 2012 Geocoin | |
| | | TB5ZBZN | | mel-whv's Block Party 2013 Geocoin | |
| | | TB6VJR2 | | mel-whv's Block Party 2014 Geocoin | |
| | | TB7HD85 | | mel-whv's Block Party 2015 Geocoin | |
| | | TB4KXWM | | mel-whv's Block Party Geocoin | |
| | | TB7E3N6 | | mel-whv's Germany goes Blockparty Geocoin | |

Geocoinfest Events

| | Icon | Infocode | Picture | Name | |
| --- | --- | --- | --- | --- | --- |
| | | TB96ZXX | | mel-whv's Geocoinfest 2017: Long Beach, California...Sailing the Ocean Blue | |
| | | TB9704G | | mel-whv's Geocoinfest 2017: Long Beach, California...Welcome Aboard! | |
| | | TB94TCA | | mel-whv's Geocoinfest-Seattle 2018 Geocoin | |
| | | TB5CJE9 | | mel-whv's Geocoinfest 2012 Gold Pan Coin | |
| | | TB9JA94 | | mel-whv's GeoCoinfest 2020 Promo | |
| | | TB9C8J0 | | mel-whv's Geocoinfest Donut Geocoin | |
| | | TB85HQB | | mel-whv's Praying Mantis Geocoin | |

GPS Maze Events

| | Icon | Infocode | Picture | Name | |
| --- | --- | --- | --- | --- | --- |
| | | TB1W3BY | | mel-whv's GPS Maze - Minnetrista Geocoin | |
| | | TB99FHC | | mel-whv's GPS Maze - Fort Worth Volunteer Geocoin | |

Achievement and Souvenirs (Profile or General)

| | Icon | Infocode | Picture | Name | |
| --- | --- | --- | --- | --- | --- |
| | | TB3FH96 | | mel-whv's 1 Million Geocache Geocoin | |
| | | TB3P107 | | mel-whv's 10 Year Anniversary Geocoin | |
| | | TB3NVHD | | mel-whv's 10 Years of Geocaching Geocoin | |
| | | TB5RF9W | | mel-whv's 2 Million Geocache Geocoin | |
| | | TB5F67M | | mel-whv's 2,000,000 Geocaches Geocoin | |
| | | TB8BDYH | | mel-whv's 3 Million Geocaches Geocoin | |
| | | TB7QF3G | | mel-whv's 366-Days-of-Geocaching Geocoin | |
| | | TB71HE7 | | mel-whv's 7 Souvenirs Geo-Achievement Geocoin | |
| | | TB4P950 | | mel-whv's BadgeGen Geocoin | |
| | | TB2W82Y | | mel-whv's Cache Attributes Geocoin | |
| | | TB1M31M | | mel-whv's Cache Counter Geocoin | |
| | | TB4Z960 | | mel-whv's Challenges Geocoin | |
| | | TB8VN61 | | mel-whv's Geo-Achievement Finds 10,000 Geocoin | |
| | | TB7AY75 | | mel-whv's Geo-Achievement Finds 5,000 Geocoin | |
| | | TB3JR2F | | mel-whv's Geocaching – 10 Years Geocoin | |
| | | TB8ZF6D | | mel-whv's International Geocaching Day 2018 Geocoin | |
| | | TB9AW61 | | mel-whv's International Geocaching Day 2019 Geocoin | |
| | | TB6KY1Q | | mel-whv's International Geocaching Day Geocoin | |
| | | TB7CN34 | | mel-whv's International Geocaching Day 2015 Geocoin | |
| | | TB9AM3Q | | mel-whv's Mystery at the Museum Geocoin | |
| | | TB8BK5H | | mel-whv's Project-GC Geocoin | |
| | | TB42TJ2 | | mel-whv's The ACME Cache-O-Rater Geocoin | |
| | | TB7XC24 | | mel-whv's The Geocaching Matrix Geocoin | |
| | | TB7E788 | | mel-whv's Ultimate 15 Years of Geocaching Geocoin | |
| | | TBMECN | | mel-whv's USA Geocoin | |
| | | TB35GDC | | mel-whv's 100000 Caches Germany Geocoin | |
| | | TB4A9G0 | | mel-whv's 11 Years of Geocaching Geocoin | |
| | | TB9KAQ4 | | mel-whv's 20 Years of Geocaching Geocoin | |
| | | TB973TN | | mel-whv's Cache Carnival Geocoin | |
| | | TB29BD7 | | mel-whv's Cache Matrix Geocoin | |
| | | TB6HVCW | | mel-whv's Geo-Achievement 24 Hours 24 Caches Geocoin | |
| | | TB28F6R | | mel-whv's Geo-Achievement Finds 100 Geocoin | |
| | | TB2TW4B | | mel-whv's Geo-Achievement Finds 250 Geocoin | |
| | | TB7AXGY | | mel-whv's Geo-Achievement Jasmer Coin | |
| | | TB7E0M2 | | mel-whv's Geocoin Club August 2015 - Anniversary Geocoin | |
| | | TB5Z6BW | | mel-whv's International Geocaching Day 2013 Geocoin | |
| | | TB7XQJ5 | | mel-whv's International Geocaching Day 2016 Geocoin | |
| | | TB9P0F1 | | mel-whv's International Geocaching Day 2020 Geocoin | |
| | | TB7RQQ3 | | mel-whv's Leap Day 2016 Geocoin, Global Edition | |
| | | TB9HD13 | | mel-whv's Leap Day 2020 Geocoin | |
| | | TB9J8P1 | | mel-whv's Leaping into 2020; an Extra Day of Caching Fun! | |
| | | TB9J9PA | | mel-whv's Memory Lane Geocoin | |
| | | TB9BVXP | | mel-whv's Premium Member Geocoin | |
| | | TB62M7F | | mel-whv's Waymarking Geocoin | |
| | | TB9NP6Y | | mel-whv's Wonders of the World Geocoin | |
| | | TB3NDRK | | mel-whv's WSGA 2010 - Celebrating 10 Years Geocaching Geocoin | |

On the Hunt for the next FTF

| | Icon | Infocode | Picture | Name | |
| --- | --- | --- | --- | --- | --- |
| | | TB647VB | | mel-whv's Chicken FTF Geocoin | |
| | | TB4FB08 | | mel-whv's FTF Congratulation Geocoin | |
| | | TB23MXG | | mel-whv's FTF Craze Comic -AE- #1 Geocoin | |
| | | TB2C020 | | mel-whv's FTF Craze Comic #1 Geocoin | |
| | | TB26GNC | | mel-whv's FTF Craze Comic #2 Geocoin | |
| | | TB2DJEB | | mel-whv's FTF Craze Comic #3 Geocoin | |
| | | TB2DJW2 | | mel-whv's FTF Craze Comic #4 Geocoin | |
| | | TB17PAE | | mel-whv's FTF Geocoin | |
| | | TB47BQC | | mel-whv's FTF V3 Geocoin | |
| | | TB5ABGV | | mel-whv's Geocoin Club August 2012 Geocoin | |
| | | TB9T3KT | | mel-whv's Geoswag C&P Club October 2020 - FTF Elixir | |

Special Caches

| | Icon | Infocode | Picture | Name | |
| --- | --- | --- | --- | --- | --- |
| | | TB695RG | | mel-whv's Besondere Caches Geocoin - Töff Töff | |
| | | TB6EFGC | | mel-whv's Besondere Caches Geocoin - Wo ist Kumpel Anton | |
| | | TB6DCD4 | | mel-whv's Church Micro 10th Anniversary Geocoin | |
| | | TB6DCA9 | | mel-whv's Church Micro Geocoin | |
| | | TB96JHG | | mel-whv's Dexter Final Insanity Geocoin | |
| | | TB80908 | | mel-whv's Dexter Trinity Geocoin | |
| | | TB9DCN0 | | mel-whv's Dexters Buzzsaw Geocoin | |
| | | TB93JHG | | mel-whv's Die drei Fragezeichen Geocoin | |
| | | TB9GZ9E | | mel-whv's Dracula 2.0 Geocoin | |
| | | TB8HC22 | | mel-whv's GC43 - Europe's First Geocoin | |
| | | TB6GWXG | | mel-whv's Müssmannhaus Geocoin | |
| | | TB8D30W | | mel-whv's Oldenburg Klimaschätze Geocoin | |
| | | TB2NG7Q | | mel-whv's SideTracked Geocoin *SUPPORTER* | |
| | | TB2ZA7H | | mel-whv's The Hitchhiker's Coin to the Galaxis Geocoin | |
| | | TB8DH69 | | mel-whv's The Witch Geocoin | |
| | | TB85R8J | | mel-whv's Til Death Do Us Part! Geocoin | |
| | | TB6HVH7 | | mel-whv's ZdM-Geocoin 2015 | |
| | | TB7E4WZ | | mel-whv's Kippers Coin | |
| | | TB8ZQ99 | | mel-whv's Oldest Active Cache Geocoin | |

T5 Passion

| | Icon | Infocode | Picture | Name | |
| --- | --- | --- | --- | --- | --- |
| | | TB17ZAY | | mel-whv's 5 Star Climbing Geocoin | |
| | | TB181B5 | | mel-whv's 5 Star Kayak Geocoin | |
| | | TB17Z66 | | mel-whv's 5 Star Scuba Geocoin | |
| | | TB6H1MG | | mel-whv's Adventure - Life begins... Geocoin | |
| | | TB1ERYP | | mel-whv's Bat-Bubba's Caving Geocoin | |
| | | TB2HBGD | | mel-whv's c_i_h - Adventures in Geocaching Vol #1 Geocoin | |
| | | TB5QZ26 | | mel-whv's Climbing Geocoin | |
| | | TB2E7AQ | | mel-whv's Difficult Climbing Geocoin | |
| | | TB36FVM | | mel-whv's Extremcaching 2009 Geocoin | |
| | | TB3QB0D | | mel-whv's Extremcaching 2010 Geocoin | |
| | | TB4HXK5 | | mel-whv's Extremcaching 2011 Geocoin | |
| | | TB7J6PT | | mel-whv's Extreme Ice Hiking T5 Boot | |
| | | TB44ZJ7 | | mel-whv's Figure Eight Geocoin | |
| | | TB69YAF | | mel-whv's Geoclimbing Geocoin (V1) - No Sissi Cacher | |
| | | TB69Y70 | | mel-whv's Geoclimbing Geocoin (V1) - T5 Expert | |
| | | TB69Y12 | | mel-whv's Geoclimbing Geocoin (V1) - T5 Master | |
| | | TB93QK5 | | mel-whv's Geoclimbing Geocoin (V3) - No Sissie-Cacher | |
| | | TB93QK4 | | mel-whv's Geoclimbing Geocoin (V3) - T5 Expert | |
| | | TB92F58 | | mel-whv's Geoclimbing Geocoin (V3) - T5 Master | |
| | | TB925QX | | mel-whv's Geocoin Club Aug 2018 - How Far: Dive Caches | |
| | | TB925WG | | mel-whv's Geocoin Club Sept 2018 - How Far: Climb Caches | |
| | | TB7GPF1 | | mel-whv's Geoswag C&P Club August 2015 - Deep Diving Caching Geocoin | |
| | | TB4FH18 | | mel-whv's Geoswag C&P Club June 2011 - Diving Mask Geocoin | |
| | | TB1415D | | mel-whv's Getting There Geocoin | |
| | | TB1V257 | | mel-whv's Go 4x4 It Geocoin | |
| | | TB7RYTY | | mel-whv's HJThom's Geocoin | |
| | | TB4VV24 | | mel-whv's Ice Pick Geocoin | |
| | | TB6VB3F | | mel-whv's Kletter-Spezial-Einheit T5 Climbing Geocoin | |
| | | TB1WMAH | | mel-whv's Landsharkz 07 Rock Garden Geocoin | |
| | | TB1Y8K0 | | mel-whv's Lecco's Mountains Geocoin | |
| | | TB935JJ | | mel-whv's LoveT5 Geocoin | |
| | | TB8TFV7 | | mel-whv's Scuba Geocoin | |
| | | TB5A0T9 | | mel-whv's Spicy Geocoin | |
| | | TB5N6MG | | mel-whv's T5 Climbing Geocoin | |
| | | TB65H01 | | mel-whv's T5 Geocoin | |
| | | TB7QTHB | | mel-whv's T5 Harness Climbing Geocoin | |
| | | TB8BMDG | | mel-whv's T5 Solution Geocoin | |
| | | TB9A8C1 | | mel-whv's T5: Caching with a Mermaid geocoin | |
| | | TB7E3JJ | | mel-whv's T5 Iceboots Geocoin | |
| | | TB7346N | | mel-whv's Terrain V Geocoin | |
| | | TB81FWR | | mel-whv's The Real Climb Geocoin | |
| | | TB7478E | | mel-whv's The Real Climb II Geocoin | |
| | | TB7XMD2 | | mel-whv's Underground Geocoin | |
| | | TB67NPN | | mel-whv's Up & Down Geocoin | |
| | | TB8ZJQ4 | | mel-whv's Up! Geocoin | |
| | | TB2MR1J | | mel-whv's Dive Into Caching Geocoin | |
| | | TB1JYNH | | mel-whv's Hardcore Caching Geocoin 2007 | |
| | | TBXBBQ | | mel-whv's Kayakerinme Geocoin - 1/5 Loon | |
| | | TBXFZ5 | | mel-whv's Kayakerinme Geocoin - 2/5 Black Bear | |
| | | TBXBN0 | | mel-whv's Kayakerinme Geocoin - 3/5 Mt. Katahdin | |
| | | TBXDDF | | mel-whv's Kayakerinme Geocoin - 4/5 Pine Cone | |
| | | TBXJRP | | mel-whv's Kayakerinme Geocoin - 5/5 Moose | |
| | | TB9PJN1 | | mel-whv's T5 in Mecklenburg Geocoin | |
| | | TB2EXKC | | mel-whv's Underwater Caching Geocoin | |

Mystery Brainpower

| | Icon | Infocode | Picture | Name | |
| --- | --- | --- | --- | --- | --- |
| | | TBZPKE | | mel-whv's Anthus Decoder Geocoin | |
| | | TB8TRKT | | mel-whv's ConundrumCoin | |
| | | TB28TB8 | | mel-whv's Cryptic Newton Geocoin | |
| | | TB5GT7C | | mel-whv's D5 Mystery Geocoin | |
| | | TB15GRZ | | mel-whv's DB & BNB Geocoin | |
| | | TB4WQMW | | mel-whv's Devil Made Me Do It Geocoin | |
| | | TB4YN1A | | mel-whv's Enigma Geocoin | |
| | | TB22824 | | mel-whv's ENIGMA Geocoin | |
| | | TB6DHBJ | | mel-whv's Got coords? Geocoin | |
| | | TB38JXH | | mel-whv's Illuminati Geocoin | |
| | | TBW6G2 | | mel-whv's Irish Hunter Geocoin - Use your Brain | |
| | | TB1V4HR | | mel-whv's July GCC Spy Geocoin | |
| | | TB6G420 | | mel-whv's King of Mystery Geocoin | |
| | | TB38RE8 | | mel-whv's Mystery Heart Geocoin | |
| | | TB782Y4 | | mel-whv's Mystery Skull Geocoin | |
| | | TB2WX49 | | mel-whv's PMC Challenge Geocoin | |
| | | TB1E68Y | | mel-whv's Puzzle Geocoin - The Challenge | |
| | | TB1E5W2 | | mel-whv's Puzzle Geocoin - The Find | |
| | | TB1E608 | | mel-whv's Puzzle Geocoin - The Quest | |
| | | TB1E646 | | mel-whv's Puzzle Geocoin - The Research | |
| | | TB1KZJ9 | | mel-whv's Stonehenge Mystery Geocoin | |
| | | TB4HK5X | | mel-whv's AASR4 Geocoin | |
| | | TB58HHD | | mel-whv's AASR5 Geocoin | |
| | | TB5DFFH | | mel-whv's AASR6 Geocoin | |
| | | TB3CAXC | | mel-whv's Geocoin Club December 2009 Geocoin | |
| | | TBXZT4 | | mel-whv's Jan and the Percey Boys Geocoin | |
| | | TB139KG | | mel-whv's Math Puzzle Geocoin | |
| | | TB1H1B8 | | mel-whv's Roboknight 2007 Mystery Geocoin | |

Come to the Lost Place

| | Icon | Infocode | Picture | Name | |
| --- | --- | --- | --- | --- | --- |
| | | TB89CFE | | mel-whv's Beelitz Heilstätten Geocoin | |
| | | TB6TPF9 | | mel-whv's cu @ LP - Geocoin | |
| | | TB7J9A2 | | mel-whv's Lost Airbase Geocoin | |
| | | TB7PPBA | | mel-whv's Lost Geocacher Geocoin | |
| | | TB84N3W | | mel-whv's Lost Mietz Geocoin | |
| | | TB81NT2 | | mel-whv's Lost Miner Geocoin | |
| | | TB5ZQ8Z | | mel-whv's Lost Places 01 Geocoin | |
| | | TB7NE34 | | mel-whv's Lost Places 02 Geocoin | |
| | | TB8X63P | | mel-whv's Lost Places 03 Geocoin | |
| | | TB81PBQ | | mel-whv's Lost Skull Geocoin | |
| | | TB85GVX | | mel-whv's Lost Skyline Propaganda Geocoin | |
| | | TB6MWQP | | mel-whv's Lost Skyline Radar Geocoin | |
| | | TB8M8MN | | mel-whv's Lost Skyline Railway Geocoin | |
| | | TB6MXDT | | mel-whv's Lost Skyline Shelter Geocoin | |
| | | TB6MY53 | | mel-whv's Lost Skyline Tower Geocoin | |
| | | TB4391H | | mel-whv's LPC-Immobilien Geocoin | |
| | | TB6AWNB | | mel-whv's MallorGecko Geocoin | |
| | | TB7PQM8 | | mel-whv's We Love Lost Places Geocoin | |

Against the Law?

| | Icon | Infocode | Picture | Name | |
| --- | --- | --- | --- | --- | --- |
| | | TB1XKXV | | mel-whv's Cache or Charge Geocoin | |
| | | TB1EXNN | | mel-whv's Police Geocaching Squad 2007 Geocoin | |
| | | TB9QA9R | | mel-whv's Agent 2020 Geocoin | |
| | | TB35H09 | | mel-whv's Geocaching Ortungsdienst Geocoin | |
| | | TB30ZP5 | | mel-whv's U.S. Department of Homeland Security Geocoin | |

Very Dangerous

| | Icon | Infocode | Picture | Name | |
| --- | --- | --- | --- | --- | --- |
| | | TB3F7VC | | mel-whv's Hazardous "Biohazard" Geocoin | |
| | | TB3QVW4 | | mel-whv's Hazardous "Explosive" Geocoin | |
| | | TB3BKDN | | mel-whv's Hazardous "Radioactive" Geocoin | |
| | | TB3W2AC | | mel-whv's Hazardous "Toxic" Geocoin | |

Night Caching

| | Icon | Infocode | Picture | Name | |
| --- | --- | --- | --- | --- | --- |
| | | TB1W9QT | | mel-whv's Bahama Starfish Geocoin | |
| | | TB3YE3K | | mel-whv's Cache at Night Geocoin | |
| | | TB111NW | | mel-whv's CoinsAndPins Geocoin | |
| | | TB6YZQD | | mel-whv's Darkest Dreams Geocoin | |
| | | TB7N8MP | | mel-whv's Geocoin Club November 2015 - Night Hunters Geocoin | |
| | | TB2WRW1 | | mel-whv's Guardians of the Night Geocoin | |
| | | TB5P3H2 | | mel-whv's I Love Nightcaches Geocoin | |
| | | TB18849 | | mel-whv's Night Cachers Geocoin | |
| | | TB2EDGX | | mel-whv's Night Caching Owl Geocoin | |
| | | TB2D5Q1 | | mel-whv's Night Hunter 2008 Geocoin | |
| | | TB58NQT | | mel-whv's Night Owl Geocoin | |
| | | TB2D9R0 | | mel-whv's Night Racers Geocoin | |
| | | TB69QK7 | | mel-whv's Nightcaching Australia Geocoin | |
| | | TB1A3EK | | mel-whv's Oct - Night Caching Geocoin | |
| | | TB35M0A | | mel-whv's Creatures of Nightcaching Geocoin | |
| | | TB636Y7 | | mel-whv's Eyes of Darkness Geocoin | |
| | | TB2P1C5 | | mel-whv's Geoswag C&P Club October 2008 - Night Cache Muggler Geocoin | |
| | | TB6WTPG | | mel-whv's Olanda the Owl Geocoin | |

Halloween and other Creepies

| | Icon | Infocode | Picture | Name | |
| --- | --- | --- | --- | --- | --- |
| | | TB3YW8C | | mel-whv's Black Widow Geocoin | |
| | | TB4A8E9 | | mel-whv's Black Widow Geocoin | |
| | | TB8PQH0 | | mel-whv's dead mans pumpSkin Geocoin | |
| | | TB1XZE5 | | mel-whv's Early Halloween Geo Bash 2007 Geocoin | |
| | | TB92YNY | | mel-whv's Geocoin Club October 2018 - Halloween Spooktacular | |
| | | TB1ZCTF | | mel-whv's Geoswag C&P Club October 2007 - Happy Cache-O-Ween Geocoin | |
| | | TB3Z0E4 | | mel-whv's Halloween 2010 Geocoin | |
| | | TB9DFGD | | mel-whv's Halloween Signal Geocoin | |
| | | TB3YG8Y | | mel-whv's Happy Samhain Geocoin | |
| | | TB38FKE | | mel-whv's Jack-o'-Lantern Geocoin | |
| | | TB8X3ZN | | mel-whv's Land of the Dead Geocoin | |
| | | TB2Y8GN | | mel-whv's Rainbow of Bones Geocoin | |
| | | TB666FB | | mel-whv's Rest in Peace Geocoin | |
| | | TB691EZ | | mel-whv's RIPPER Bones Geocoin | |
| | | TB1EKXZ | | mel-whv's Tempting The Fates Geocoin | |
| | | TB740M9 | | mel-whv's The Grim Reaper Geocoin | |
| | | TB7E2G9 | | mel-whv's The Grim ReaperSkull Geocoin | |
| | | TB4QPAD | | mel-whv's Tick Geocoin | |
| | | TB37M6E | | mel-whv's Tribal Cacher Geocoin | |
| | | TB6XWH8 | | mel-whv's Xynthia the Witch Geocoin | |
| | | TBN2VE | | mel-whv's Zombie Tribe Geocoin | |
| | | TB19HNF | | mel-whv's Bad Mojo Geocoin | |
| | | TB1N86Q | | mel-whv's Bad Mojo Geocoin | |
| | | TB9KD46 | | mel-whv's Geocoin Club February 2020 - Dwayyo | |
| | | TB36G90 | | mel-whv's Geocoin Club July 2009 Geocoin - El Muerto del Ammocan | |
| | | TB9MMB3 | | mel-whv's Geocoin Club June 2020 - Stay on the Path | |
| | | TB4R8BN | | mel-whv's Geocoin Club October 2011 Geocoin | |
| | | TB9QD08 | | mel-whv's Geocoin Club October 2020 - Witches of Halloween | |
| | | TB9GMAY | | mel-whv's Geoswag C&P Club October 2019 - 13th Gate | |
| | | TB1Z6V7 | | mel-whv's Halloween 2007 Geocoin | |
| | | TB78FTP | | mel-whv's KingzDevil Geocoin | |
| | | TB1ZB3J | | mel-whv's Personal Geocoin - The Monster Cache 2007 | |
| | | TB7JQ48 | | mel-whv's Spirit of Halloween Geocoin | |
| | | TB2NJM0 | | mel-whv's The DEAD Geocoin | |
| | | TB20862 | | mel-whv's Trick or Treat Geocoin | |
| | | TB2NQ1K | | mel-whv's Witch Geocacher Parking Geocoin | |

Pirates of the Seven Seas

| | Icon | Infocode | Picture | Name | |
| --- | --- | --- | --- | --- | --- |
| | | TB2C0QQ | | mel-whv's Bushwhack Pirate Sword Geocoin | |
| | | TB995GA | | mel-whv's Geocoin Club May 2019 - Dead Men Tell No Tales | |
| | | TB9GGCW | | mel-whv's Geocoin Club November 2019 - Captain Greybeard | |
| | | TB5NQJ5 | | mel-whv's Pirate Wheel Geocoin | |
| | | TB1ZF3A | | mel-whv's Pirates of Harriman IV Geocoin | |
| | | TB5AGQQ | | mel-whv's Signal Pirate Geocoin | |
| | | TB4TQ4Q | | mel-whv's Geoswag C&P Club October 2011 - Trade Fairly Geocoin | |
| | | TB50E51 | | mel-whv's High Seas Pirate Adventure Geocoin | |
| | | TB4WMQG | | mel-whv's Idylwood Pirates Geocoin | |

Geocaching related

| | Icon | Infocode | Picture | Name | |
| --- | --- | --- | --- | --- | --- |
| | | TB5VZGQ | | mel-whv's A Day without Geocaching... Geocoin | |
| | | TB9AE4F | | mel-whv's BetterCacher Geocoin | |
| | | TB5X6Z0 | | mel-whv's Cache am Sonntag Geocoin | |
| | | TB1MNCX | | mel-whv's Cache Marks 2007 Geocoin | |
| | | TB1VW42 | | mel-whv's Cache Rewards Geocoin | |
| | | TB24FK2 | | mel-whv's Cacher Geocoin | |
| | | TB2WBZZ | | mel-whv's Cacher Thermometer Geocoin | |
| | | TB4BBBT | | mel-whv's Come Together 2011 Geocoin | |
| | | TB20K5H | | mel-whv's Deadliest Cache Geocoin | |
| | | TB821BN | | mel-whv's Die offizielle Geocaching-Guide Geocoin | |
| | | TBRP19 | | mel-whv's February 2006 Geocoin Club - Ghost of the Geocaching Past | |
| | | TBXP8M | | mel-whv's Geocacher University Geocoin | |
| | | TB1YYAJ | | mel-whv's Geocacher's Day Geocoin | |
| | | TB1YYRJ | | mel-whv's Geocacher's Evolution Geocoin | |
| | | TB57W45 | | mel-whv's Geocacher's License Geocoin | |
| | | TB2DY9Y | | mel-whv's Geocaching - All In One Geocoin 2008 | |
| | | TB5P4DR | | mel-whv's Geocaching – All In One Geocoin 2013 | |
| | | TB78M15 | | mel-whv's Geocaching Magazin Geocoin | |
| | | TB1DMN8 | | mel-whv's Geocaching Skill: Intelligence Geocoin | |
| | | TB1DM4M | | mel-whv's Geocaching Skill: Protection Geocoin | |
| | | TB1DKG4 | | mel-whv's Geocaching Skill: Stamina Geocoin | |
| | | TB1DK0J | | mel-whv's Geocaching Skill: Vision Geocoin | |
| | | TB1JXDB | | mel-whv's Geocaching Skills: Golden Mastercoin Geocoin | |
| | | TB97150 | | mel-whv's Geocoin Club April 2019 - Old Salty | |
| | | TBMD52 | | mel-whv's Geocoin Club Coin Sep 2005 - Selective Availability | |
| | | TB1G987 | | mel-whv's Geocoin Club February 2007 Geocoin | |
| | | TB3CW2Z | | mel-whv's Geocoin Club January 2010 Geocoin | |
| | | TB79EVW | | mel-whv's Geocoin Club June 2015 - Glory to the Builders Geocoin | |
| | | TB4P6GX | | mel-whv's Geocoin Club September 2011 - The treasured day | |
| | | TB5BTJJ | | mel-whv's Geocoin Club September 2012 Geocoin | |
| | | TB1V6YN | | mel-whv's GeoElement Geocoin | |
| | | TB15TJ4 | | mel-whv's Geoswag C&P Club July 2006 - Sock Puppet Geocoin | |
| | | TB1ZDCD | | mel-whv's Geoswag C&P Club November 2007 - Geocacher Geocoin | |
| | | TB32848 | | mel-whv's Gumball Cache Geocoin | |
| | | TB1Q707 | | mel-whv's Highly Addictive Geocoin | |
| | | TB4B6CA | | mel-whv's Home is where the Cache is Geocoin | |
| | | TB4C3FY | | mel-whv's Home is where the Cache is, Series 2 Geocoin | |
| | | TB1XWYQ | | mel-whv's Italian Website Geocoin | |
| | | TB1EPGJ | | mel-whv's Leipzig Event Geocoin | |
| | | TB2CQ3C | | mel-whv's Letterboxing Geocoin | |
| | | TB62J33 | | mel-whv's Long Distance Hikers Geocoin | |
| | | TB88D3K | | mel-whv's Magic Is In The Hunt Geocoin | |
| | | TB3H3ZH | | mel-whv's Mood For Caching Geocoin | |
| | | TB1DZWR | | mel-whv's Never STOP Geocaching Geocoin | |
| | | TB1XXW9 | | mel-whv's Notorious Geocacher Geocoin | |
| | | TB2E8XX | | mel-whv's Persistence of Caching Geocoin | |
| | | TB3NV29 | | mel-whv's Plain Geocoin | |
| | | TB2DABA | | mel-whv's Proximity Guideline Geocoin | |
| | | TB2MHY8 | | mel-whv's Pure. Black Geocoin | |
| | | TB173E1 | | mel-whv's Route 208 Geocoin | |
| | | TB7TD5Q | | mel-whv's Slice of Pi 2016 Geocoin | |
| | | TB1D4J1 | | mel-whv's Spinning Top Geocoin | |
| | | TB8K2XV | | mel-whv's Swiss EarthCache Geocoin | |
| | | TB2WWT3 | | mel-whv's The Great Outdoors Geocoin | |
| | | TB2GX1V | | mel-whv's Uncle Cacher Geocoin | |
| | | TB58DRD | | mel-whv's Vitoria-Gasteiz 2012 Geocoin | |
| | | TB2FRHT | | mel-whv's Wonderful Discoveries Geocoin | |
| | | TB1FXXZ | | mel-whv's 12 Days of Caching Geocoin | |
| | | TB1FXTF | | mel-whv's 12 Days of Caching Geocoin | |
| | | TB1FY1X | | mel-whv's 12 Days of Caching Geocoin | |
| | | TB1FY45 | | mel-whv's 12 Days of Caching Geocoin | |
| | | TB2D1Z8 | | mel-whv's 3 Wise Monkeys Geocoin | |
| | | TB1G8NZ | | mel-whv's A Cache A Day Geocoin | |
| | | TB5RTVC | | mel-whv's Bike & Cache Geocoin | |
| | | TB1AK44 | | mel-whv's Cache Hiker Geocoin | |
| | | TB81G6J | | mel-whv's Cache'n'Bike Geocoin | |
| | | TB4RE59 | | mel-whv's DRunners Geocaching - All In One Geocoin | |
| | | TBY8NP | | mel-whv's Earth Geocoin | |
| | | TB2VD21 | | mel-whv's Geocacher's License Geocoin 2007 | |
| | | TB1M2V7 | | mel-whv's Geocaching - All In One Geocoin 2007 | |
| | | TB4A85T | | mel-whv's Geocaching - All In One Geocoin 2009 Geocoin | |
| | | TB3Z1YT | | mel-whv's Geocaching – All In One Geocoin 2010 Geocoin | |
| | | TB58BBB | | mel-whv's Geocaching – All In One Geocoin 2011 | |
| | | TB50JWD | | mel-whv's Geocaching – All In One Geocoin 2012 | |
| | | TB6D74A | | mel-whv's Geocaching All In One Geocoin 2014 | |
| | | TB4VT9Q | | mel-whv's Geocaching is great! Geocoin | |
| | | TB7RFEV | | mel-whv's Geocaching – All In One Geocoin 2016 | |
| | | TBTJE8 | | mel-whv's Geocoin Club Coin Mar 2006 - Can you see me now | |
| | | TB9HBV4 | | mel-whv's Geocoin Club January 2020 - Window into Caching | |
| | | TB4ZRZC | | mel-whv's Geocoin Club March 2012 Geocoin | |
| | | TB9ME4A | | mel-whv's Geocoin Club May 2020 - Bike Week | |
| | | TB21YBP | | mel-whv's Geocoin Club November 2007 Geocoin | |
| | | TB34Z7J | | mel-whv's GeoPortal Geocoin | |
| | | TB95830 | | mel-whv's Giga Virtual Ghost Geocoin | |
| | | TB4HVCE | | mel-whv's Gx Travel Coin | |
| | | TB2E81T | | mel-whv's Hide-A-Kache Geocoin | |
| | | TB22JEN | | mel-whv's Kuntry Kashin Geocoin | |
| | | TB1FV25 | | mel-whv's Magnetic Keyholder Geocoin | |
| | | TB1TVGY | | mel-whv's Mailbox v.2 Geocoin | |
| | | TB1RWNM | | mel-whv's May 2007 GCC Hide & Seek Geocoin | |
| | | TB82M92 | | mel-whv's Multi-Matrix Geocoin | |
| | | TB16QNG | | mel-whv's One Cache Geocoin | |
| | | TB2Y9JA | | mel-whv's Pure. Color Geocoin | |
| | | TBW12Y | | mel-whv's Spin Geocoin | |
| | | TB6E76B | | mel-whv's The Maker Geocoin | |
| | | TB58YZ1 | | mel-whv's The ORC Geocoin | |
| | | TB1Q0X1 | | mel-whv's Two Cache Geocoin | |
| | | TB2Z6D7 | | mel-whv's Whale Boat Micros (Save The Ammocan) Geocoin | |
| | | TBRFQB | | mel-whv's World of Geocaching Geocoin | |
| | | TBP6GB | | mel-whv's World of Geocaching Geocoin | |

EarthCache related

| | Icon | Infocode | Picture | Name | |
| --- | --- | --- | --- | --- | --- |
| | | TB69BN7 | | mel-whv's EarthCache 10th Birthday Geocoin | |
| | | TB3Z4C1 | | mel-whv's EarthcacheCoin Petrified Wood Chemnitz Geocoin | |
| | | TB3Y4C9 | | mel-whv's EarthCache Master "Bronze" Geocoin | |
| | | TB3Y4NR | | mel-whv's EarthCache Master "Gold" Geocoin | |
| | | TB3Y3PV | | mel-whv's EarthCache Master "Platinum" Geocoin | |
| | | TB3Y3GN | | mel-whv's EarthCache Master "Silver" Geocoin | |
| | | TB86TF2 | | mel-whv's International EarthCache Day 2016 Geocoin | |
| | | TB9QBD5 | | mel-whv's The Forces That Shape Our Earth Geocoin | |

Event related

| | Icon | Infocode | Picture | Name | |
| --- | --- | --- | --- | --- | --- |
| | | TB13A4W | | mel-whv's Annual Championship Germany 2006 Geocoin | |
| | | TB8AV04 | | mel-whv's Atlantic BattleCache 2017 Geocoin | |
| | | TB1A203 | | mel-whv's Caching under the stars Event Geocoin | |
| | | TB6G6TD | | mel-whv's Dönerstag Geocoin | |
| | | TB8TKBY | | mel-whv's Erdmännchen Geocoin | |
| | | TB8HA5P | | mel-whv's Event mit dem Frosch Geocoin | |
| | | TB8FNWV | | mel-whv's GIFF 2017 Geocoin | |
| | | TB2XMEB | | mel-whv's MallorGEO 2009 Geocoin | |
| | | TB4ZTBC | | mel-whv's MallorGeo 2012 Geocoin | |
| | | TB5PJBM | | mel-whv's MallorGeo 2013 Geocoin | |
| | | TB732GN | | mel-whv's Pi Day 2015 Geocoin | |
| | | TB6V1R3 | | mel-whv's Stadtmeisterschaft 2014 Geocoin | |
| | | TB8C58Q | | mel-whv's Where in the world is Signal? Dönerstag! Geocoin | |
| | | TB53D3Y | | mel-whv's ØT Event Geocoin | |
| | | TB1M8NN | | mel-whv's April 2007 Geocoin Club - Meet and Greet Geocoin | |
| | | TB38F21 | | mel-whv's Coinucopia Event Geocoin | |
| | | TB9MY78 | | mel-whv's Come together at the event! | |
| | | TB9PV50 | | mel-whv's Community Celebration Event Icon - Group "Jupp Nümms" Geocoin | |
| | | TB9NWV0 | | mel-whv's Community Celebration Event Icon - Group "Twenty Years GCF0" Geocoin | |
| | | TBRHBE | | mel-whv's Frozen Bone Geocoin | |
| | | TB1XC4R | | mel-whv's G.O.N.E. Caching Event! Geocoin | |
| | | TB3R4H8 | | mel-whv's Lost & Found Geocoin | |
| | | TB2ZGAM | | mel-whv's MAD Event Geocoin | |
| | | TB242JB | | mel-whv's MallorGeo 2008 Geocoin | |
| | | TB3W8GN | | mel-whv's Nordseetaufe 2010 Geocoin | |
| | | TBMPED | | mel-whv's Personal Geocoin - Fragglestock | |
| | | TB62WNY | | mel-whv's The 13th Spider Geocoin | |
| | | TB1H9P1 | | mel-whv's Walpurgis Event 2007 Geocoin | |
| | | TB1623J | | mel-whv's's NNJC Event Coin | |

Geocoin Addicted - and related

| | Icon | Infocode | Picture | Name | |
| --- | --- | --- | --- | --- | --- |
| | | TB5CE0V | | mel-whv's Coinfather Geocoin | |
| | | TB2FV9W | | mel-whv's Geocoin Addict Geocoin | |
| | | TB1WREW | | mel-whv's Geocoin Collecting Geocoin | |
| | | TB8TPYY | | mel-whv's GEOCOINDEALER Geocoin | |
| | | TB243HV | | mel-whv's I Love Geocoins Geocoin | |
| | | TB20JH5 | | mel-whv's Mackey Made It Geocoin | |
| | | TB6VCDM | | mel-whv's Monstrum Coinsuchticum Geocoin | |
| | | TB8451P | | mel-whv's Moun10Bike 15 Year Tribute Geocoin | |
| | | TB865JK | | mel-whv's Signal's Geocoin Vault ­ HQ Edition Geocoin | |
| | | TB68VYV | | mel-whv's SSoCA Geocoin - The Glowing Passion 2014 | |
| | | TB4Z2KV | | mel-whv's TB-Rescue Geocoin | |
| | | TB1WWEA | | mel-whv's August 2007 GCC Geocoin | |
| | | TB6AND9 | | mel-whv's Avroair Aviator Geocoin | |
| | | TBVNCH | | mel-whv's Coin Town Geocoin | |
| | | TB57KBW | | mel-whv's Discovered Volume I | |
| | | TB16C5K | | mel-whv's Geocoin Club 2006 - Anniversary Edition | |
| | | TB2KBX6 | | mel-whv's Geocoin Club August 2008 Geocoin | |
| | | TB36GWQ | | mel-whv's Geocoin Club August 2009 Geocoin | |
| | | TB1KB6H | | mel-whv's Geocoin Thief Geocoin | |
| | | TB7WVT9 | | mel-whv's Kommt Zeit – kommt Coin | |
| | | TB7PY9C | | mel-whv's Mega Generic Geocoin 2015 | |
| | | TB1WMNT | | mel-whv's Moun10like Geocoin | |
| | | TB3H4QR | | mel-whv's Proxy Geocoin | |
| | | TB1253D | | mel-whv's Yellow Mailer Geocoin | |

Two Coins in One - Doublecoded

| | Icon | Infocode | Picture | Name | |
| --- | --- | --- | --- | --- | --- |
| | | TB794RX | | mel-whv's Crazy Love Geocoin | |
| | | TB794EH | | mel-whv's Crazy Love Geocoin | |
| | | TB4G7KX | | mel-whv's Moose Mob Geocoin | |
| | | TB4G8N5 | | mel-whv's RoadRunner Geocoin | |

Mystery Coins

| | Icon | Infocode | Picture | Name | |
| --- | --- | --- | --- | --- | --- |
| | | TB4ZTR7 | | mel-whv's Gratitude Mystery Geocoin | |
| | | TB7WZKH | | mel-whv's Green Lantern Mystery Geocoin | |
| | | TB98A8C | | mel-whv's Human Rights Geocoin | |

Scripting & Decoding & Functional

| | Icon | Infocode | Picture | Name | |
| --- | --- | --- | --- | --- | --- |
| | | TB503Y5 | | mel-whv's 50 Year Calendar Geocoin | |
| | | TB583TG | | mel-whv's Abacus Cache Counter Geocoin | |
| | | TB1VB0P | | mel-whv's Anthus Laptop Geocoin | |
| | | TB72PZK | | mel-whv's Cache Roulette Spinner Geocoin | |
| | | TB1YPT8 | | mel-whv's Cache-Aid kit Geocoin | |
| | | TB8CX9H | | mel-whv's EVOlution of Geocaching Geocoin | |
| | | TB1XMVF | | mel-whv's Florida Shipwreck Decypher Geocoin | |
| | | TB5MWYW | | mel-whv's GARMIN Rot13 Geocoin | |
| | | TBRM35 | | mel-whv's Geocoin Club Coin (Aug 2005 - Mar 2006) ROT13 | |
| | | TB966W4 | | mel-whv's Geocoin Club January 2019 - Watch Me | |
| | | TB966A3 | | mel-whv's Geocoin Club March 2019 - ROT Advanced Cipher Key | |
| | | TB1FKXT | | mel-whv's January 2007 Geocoin Club Geocoin - Rangefinder | |
| | | TB28TQ5 | | mel-whv's Nocturnal Geocoin | |
| | | TB290VZ | | mel-whv's Pocket Decoder Geocoin | |
| | | TB3AW5G | | mel-whv's Rot 13 Key Coin | |
| | | TB74Y64 | | mel-whv's Rot13-Decoder-Geocoin | |
| | | TB5Y709 | | mel-whv's Secret Cache Geocoin | |
| | | TB4ZVFR | | mel-whv's Technetium's Slide Rule Geocoin | |
| | | TB84TJP | | mel-whv's Timezone Geocoin | |
| | | TB2H6J0 | | mel-whv's ToadZCode Geocoin | |
| | | TB3871E | | mel-whv's Cosmolabe Geocoin | |
| | | TB2PCZV | | mel-whv's Geocoin Club November 2008 Geocoin | |
| | | TB2N2GM | | mel-whv's The Puzzle Geocoin | |

The History Channel

| | Icon | Infocode | Picture | Name | |
| --- | --- | --- | --- | --- | --- |
| | | TB4ZHH8 | | mel-whv's Atlantis Geocoin | |
| | | TB4A531 | | mel-whv's Atlantis Lost Continent Geocoin | |
| | | TB35V4Y | | mel-whv's Bismarck Geocoin | |
| | | TB79TH0 | | mel-whv's Bonnie and Clyde Death Car Geocoin | |
| | | TB2PN7A | | mel-whv's Brahean Geocoin | |
| | | TB59A5Z | | mel-whv's Christopher Kolumbus Geocoin | |
| | | TB1QFMH | | mel-whv's Come Together - Yang - Geocoin | |
| | | TB1QFE3 | | mel-whv's Come Together - Yin - Geocoin | |
| | | TB1KQJ9 | | mel-whv's da Vinci Geocoin - Knights Templar | |
| | | TB1KQWJ | | mel-whv's da Vinci Geocoin - Paris Meridian | |
| | | TB1KRA0 | | mel-whv's da Vinci Geocoin - Vitruvian Man | |
| | | TB604RZ | | mel-whv's Declaration Geocoin | |
| | | TB5BWNV | | mel-whv's Geocaching Evolution Geocoin | |
| | | TB3E1WC | | mel-whv's Geocoin Club February 2010 - Pythagoras Geocoin | |
| | | TB12633 | | mel-whv's Geocoin Club May 2006 Geocoin | |
| | | TB6DQ3G | | mel-whv's Guarda Geocoin | |
| | | TB51NEQ | | mel-whv's Hindenburg Geocoin | |
| | | TB1TC0D | | mel-whv's Independence Day 2007 Geocoin | |
| | | TB2H88Z | | mel-whv's Lapu-Lapu Geocoin | |
| | | TB6H9RG | | mel-whv's LEG IX HISPANIA PLATA Geocoin | |
| | | TB25WKM | | mel-whv's Morse Geocoin | |
| | | TB4DP7N | | mel-whv's Naymlap Geocoin | |
| | | TB2689V | | mel-whv's Quadrant Geocoin | |
| | | TB746ZF | | mel-whv's Remagen Geocoin | |
| | | TB3A1M2 | | mel-whv's Robin Hood Geocoin | |
| | | TB167XM | | mel-whv's ROMA Geocoin | |
| | | TB12RMV | | mel-whv's SEPAG Geocoin | |
| | | TB1VT0K | | mel-whv's Sir Cache Geocoin | |
| | | TB2291M | | mel-whv's Stone of Rosetta Geocoin | |
| | | TB20VMG | | mel-whv's Templar Geocoin | |
| | | TB2G9X7 | | mel-whv's Teutonic Knights Geocoin | |
| | | TB3DCVV | | mel-whv's The Unknown Soldier Geocoin | |
| | | TB50K9Q | | mel-whv's Titanic Geocoin | |
| | | TB2DVNJ | | mel-whv's Titanic Geocoin | |
| | | TBX041 | | mel-whv's Tracking Time Geocoin | |
| | | TB6G1P4 | | mel-whv's U-Boat Geocoin - WWII Serie | |
| | | TB2ED3Y | | mel-whv's Universe of Copernicus Geocoin | |
| | | TB41H8Y | | mel-whv's A Nation of Outcasts Geocoin | |
| | | TB60KC3 | | mel-whv's Astronomical Clocks Geocoin - Prague | |
| | | TB4C5B3 | | mel-whv's Astronomical Clocks Geocoin - Ulm | |
| | | TB3VHQZ | | mel-whv's Check Your GPS Geocoin | |
| | | TB2F21V | | mel-whv's Excalibur Geocoin | |
| | | TB2YXF0 | | mel-whv's Geocoin Club April 2009 Geocoin | |
| | | TB451CJ | | mel-whv's Geocoin Club February 2011 Geocoin | |
| | | TB6V7EV | | mel-whv's Geocoin Club September 2014 - Fathers of Rocketry | |
| | | TB5NHRD | | mel-whv's Geoswag C&P Club August 2012 - Mayan Calendar Geocoin | |
| | | TB37Y12 | | mel-whv's Golden Spike Geocoin | |
| | | TB1B3X5 | | mel-whv's Golden Spike Geocoin (EAST) | |
| | | TB1C104 | | mel-whv's Golden Spike Geocoin (WEST) | |
| | | TB2YBKF | | mel-whv's Googol Geocoin | |
| | | TB2GC4P | | mel-whv's Iraqi Freedom Geocoin | |
| | | TB5EKDG | | mel-whv's Khan Geocoin | |
| | | TB4ZH9N | | mel-whv's Mercator Geocoin | |
| | | TB2WNR7 | | mel-whv's Oak Island Geocoin | |
| | | TB3W5RA | | mel-whv's Portuguese 2009 Geocoin | |
| | | TB6TD12 | | mel-whv's Red Baron Geocoin | |
| | | TB2BE0E | | mel-whv's Remember Our Fallen Geocoin | |
| | | TB83Y7X | | mel-whv's Spartan Geocoin | |
| | | TB1Y09B | | mel-whv's The Mighty Antar Geocoin | |
| | | TB43PP5 | | mel-whv's Troy Geocoin | |
| | | TB321ZF | | mel-whv's WOD: Rosa Parks Geocoin | |
| | | TB2YRT3 | | mel-whv's Women of Distinction Geocoin - Amelia Earhart | |

Walk like an Egyptian

| | Icon | Infocode | Picture | Name | |
| --- | --- | --- | --- | --- | --- |
| | | TB3VHGY | | mel-whv's All Seeing Eye Geocoin | |
| | | TB1K6TH | | mel-whv's Ancient Cultures "Ankh" Geocoin | |
| | | TB31YME | | mel-whv's Ancient Cultures "Isis" Geocoin | |
| | | TB27X05 | | mel-whv's Ancient Cultures "King Tut Coffin" Geocoin | |
| | | TB1XWKV | | mel-whv's Ancient Cultures "King Tut's Mask" Geocoin | |
| | | TB5X757 | | mel-whv's Anubi Geocoin | |
| | | TB1V5MC | | mel-whv's ANUBIS Geocoin | |
| | | TB2NYCN | | mel-whv's Cartouche 2008 Geocoin | |
| | | TB5B1AQ | | mel-whv's Egyptian Dragonfly Geocoin | |
| | | TB3K8GF | | mel-whv's Egyptian Geocoin | |
| | | TB52D71 | | mel-whv's Egyptian Geocoin - Scarab Urn | |
| | | TB47X1D | | mel-whv's Egyptian Key Geocoin | |
| | | TB3TF4J | | mel-whv's Egyptian Scarab Beetle Geocoin | |
| | | TB5EMP7 | | mel-whv's Egyptian Scarab Geocoin | |
| | | TB58E66 | | mel-whv's Geocoin Club July 2012 - Egyptian Pharoahs Geocoin | |
| | | TB1PN92 | | mel-whv's Geocoins Through the Ages - Ancient Egypt Geocoin | |
| | | TB4ADH3 | | mel-whv's Geoswag C&P Club May 2011 - Egyptian Ankh Geocoin | |
| | | TB3Y8P2 | | mel-whv's Horus Geocoin | |
| | | TB6V05G | | mel-whv's King Tut Geocoin | |
| | | TB4B35T | | mel-whv's Masters of Cache II - The Mummy Geocoin | |
| | | TB1W7JD | | mel-whv's NARMER Geocoin | |
| | | TB7JQYZ | | mel-whv's Scarab Geocoin | |
| | | TB1TTC0 | | mel-whv's The Caching Bug Geocoin | |
| | | TB44XE1 | | mel-whv's The Winged Disc Geocoin | |
| | | TB30XZC | | mel-whv's Wonders Geocoin | |
| | | TB5NRBT | | mel-whv's World Wonder Geocoin - Pyramide of Giza | |
| | | TB83243 | | mel-whv's Geoswag C&P Club Aug 2016 - Cache like an Egyptian Geocoin | |
| | | TB5R1RF | | mel-whv's Geoswag C&P Club May 2013 - Anubis Geocoin | |

Prehistoric Artefacts

| | Icon | Infocode | Picture | Name | |
| --- | --- | --- | --- | --- | --- |
| | | TB2DQ4F | | mel-whv's Ammonite Geocoin - Early Jurassic | |
| | | TB2DQFK | | mel-whv's Ammonite Geocoin - Late Cretaceous | |
| | | TB2DQQP | | mel-whv's Ammonite Geocoin - Late Jurassic | |
| | | TB2DPWH | | mel-whv's Ammonite Geocoin - Late Triassic | |
| | | TB2YMKA | | mel-whv's Trilobite Geocoin | |

9/11 - May we never forget

| | Icon | Infocode | Picture | Name | |
| --- | --- | --- | --- | --- | --- |
| | | TB4PKJ1 | | mel-whv's 9-11 Ten Year Anniversary Geocoin | |
| | | TB84676 | | mel-whv's 9/11 Remembrance Geocoin | |
| | | TB1J1ME | | mel-whv's Code 3 Geocoin | |
| | | TB17W87 | | mel-whv's Geoswag C&P Club September 2006 - 9/11 Memorial Coin | |
| | | TB85ND7 | | mel-whv's Geoswag C&P Club September 2016 - Never Forget 15 Years Geocoin | |
| | | TB93BE6 | | mel-whv's Symbol of Resilience Geocoin | |

Music was my first love

| | Icon | Infocode | Picture | Name | |
| --- | --- | --- | --- | --- | --- |
| | | TB4B8JY | | mel-whv's Dosenfischer-Podcast-Geocoin | |
| | | TB7467C | | mel-whv's Elvis Guitar Geocoin | |
| | | TB3YZZB | | mel-whv's Wir-nennen-es-Dosenfischen CD Geocoin | |
| | | TB6JRXC | | mel-whv's Fire-Rock Guitar Geocoin | |
| | | TB24DZ3 | | mel-whv's Jukebox Memories Geocoin | |

Hollywood Boulevard and Literaric Masterpieces

| | Icon | Infocode | Picture | Name | |
| --- | --- | --- | --- | --- | --- |
| | | TB7HRB0 | | mel-whv's 88 miles with style | |
| | | TB1XJQX | | mel-whv's Abomination Book Geocoin | |
| | | TB262JN | | mel-whv's Cache Scene Investigation Geocoin | |
| | | TB8R788 | | mel-whv's First to Find Down Here Geocoin | |
| | | TB9ATBC | | mel-whv's Geoswag C&P Club June 2019 - Life is Like a Box of Caches | |
| | | TB2643E | | mel-whv's Licence to Cache Geocoin | |
| | | TB7JEJW | | mel-whv's The G-Files Geocoin | |
| | | TB3FWFT | | mel-whv's The Raven Geocoin | |
| | | TB3GR10 | | mel-whv's Tribute to Jules Verne One Geocoin - 20000 leagues under the sea | |
| | | TB750EE | | mel-whv's 1.21GW Fluxcapacitor LED Geocoin | |
| | | TB8R57D | | mel-whv's Charlie Chaplin - The King of Comedy Geocoin | |
| | | TB2MRQ0 | | mel-whv's Hitchhikers Guide 42 Geocoin | |
| | | TB3HBP9 | | mel-whv's It's Geocaching time Geocoin | |
| | | TB5TA1H | | mel-whv's King of the FTF's Geocoin | |
| | | TB3QRVN | | mel-whv's Tribute to Jules Verne Two - The Mysterious Island Geocoin | |

Sports World

| | Icon | Infocode | Picture | Name | |
| --- | --- | --- | --- | --- | --- |
| | | TB359W6 | | mel-whv's Dortmund 2007 Geocoin | |
| | | TB4ZPCY | | mel-whv's Dortmund 2012 Geocoin | |
| | | TB7R1T3 | | mel-whv's Fussballer Geocoin | |
| | | TB2DCRM | | mel-whv's Cachin' Freestyle Geocoin | |
| | | TB62JQ1 | | mel-whv's KRIS32 Geocoin | |

Animal Planet

| | Icon | Infocode | Picture | Name | |
| --- | --- | --- | --- | --- | --- |
| | | TB1ARBR | | mel-whv's Bitten Again by Whitebear Geocoin | |
| | | TB4FW06 | | mel-whv's Bitten by Caching Geocoin | |
| | | TB3F92M | | mel-whv's Black Scorpion Geocoin | |
| | | TB3006P | | mel-whv's Blue Crab Geocoin | |
| | | TB8A8XZ | | mel-whv's Crazy Chameleon Geocoin | |
| | | TB1W7V3 | | mel-whv's Dorkfish 2007 Geocoin | |
| | | TB1X0AF | | mel-whv's Dragonfly 2007 Geocoin | |
| | | TB805TT | | mel-whv's Endangered Species Geocoin | |
| | | TB1WBEP | | mel-whv's Geocaching - Gone To The Dogs Geocoin | |
| | | TB3WC6Y | | mel-whv's Geocaching Paradise Geocoin | |
| | | TB3H970 | | mel-whv's Geocoin Club April 2010 - Tick Geocoin | |
| | | TB966ND | | mel-whv's Geocoin Club February 2019 - As the Crow Flies | |
| | | TB9959B | | mel-whv's Geocoin Club June 2019 - Azeban the Trickster | |
| | | TB8DMJX | | mel-whv's Giant Panda Geocoin | |
| | | TB4FD1W | | mel-whv's Green Mamba Geocoin | |
| | | TB1P165 | | mel-whv's Guardians of the Cache Geocoin - Bee | |
| | | TB1P0ZM | | mel-whv's Guardians of the Cache Geocoin - Mosquito | |
| | | TB1P1NT | | mel-whv's Guardians of the Cache Geocoin - Snake | |
| | | TB1P1E2 | | mel-whv's Guardians of the Cache Geocoin - Spider | |
| | | TB1YZG0 | | mel-whv's Hector's Dolphin Geocoin | |
| | | TB329EM | | mel-whv's Honu Geocoin | |
| | | TB6W598 | | mel-whv's Hummingbird Geocoin | |
| | | TB70MF4 | | mel-whv's Hunting Tiger Geocoin | |
| | | TB41F8B | | mel-whv's Landsharkz Fish Bowl Geocoin | |
| | | TB1XQVH | | mel-whv's Landsharkz Gecko Geocoin | |
| | | TB4N0E1 | | mel-whv's March of the Penguins Geocoin | |
| | | TB2M0HA | | mel-whv's Northern Atlantic Lobster Geocoin | |
| | | TB1VTWB | | mel-whv's Northern Right Whale Geocoin | |
| | | TB1PYGQ | | mel-whv's Piranha Geocoin | |
| | | TB2FA57 | | mel-whv's Quebec 2008 Geocoin - Hinnankaga | |
| | | TB8KJ49 | | mel-whv's Ratatoskr Geocoin | |
| | | TB5H6MM | | mel-whv's Reindeer Geocoin | |
| | | TB5W07V | | mel-whv's Rhinoceros Geocoin | |
| | | TB4WBQG | | mel-whv's Shark Tooth Geocoin | |
| | | TB3WAWP | | mel-whv's Small Things Geocoin | |
| | | TB1G7XX | | mel-whv's The Mighty Shark Geocoin | |
| | | TB2Y76N | | mel-whv's The Pearly Depths Landsharkz Geocoin | |
| | | TB1A1CB | | mel-whv's Tick Geocoin | |
| | | TB3AKYX | | mel-whv's Tick ID Geocoin | |
| | | TB1VX7K | | mel-whv's Tiger Swallowtail Butterfly Geocoin | |
| | | TB7CF6N | | mel-whv's Travel Grasshopper Geocoin | |
| | | TB3VAN2 | | mel-whv's Andy - The Squirrel (Geocaching Animals) Geocoin | |
| | | TB6XRVP | | mel-whv's Buffalo Spirit Geocoin | |
| | | TB813X9 | | mel-whv's Courageous Lion Geocoin | |
| | | TB1MBCM | | mel-whv's Crikey Fundraiser Geocoin | |
| | | TB2WGV5 | | mel-whv's CrotalusRex & Mimichan Geocoin | |
| | | TB3815N | | mel-whv's Edeltraud - the Sheep (Geocaching Animals) Geocoin AE5 | Black Nickel / White Fur AE5 |
| | | TB38TXE | | mel-whv's Elchrich Elch X-ing Geocoin | |
| | | TB9NYRZ | | mel-whv's Geocoin Club July 2020 - Flight of the Navigator | |
| | | TB70DCZ | | mel-whv's GeoPenguin Geocoin | |
| | | TB9M5R1 | | mel-whv's Geoswag C&P Club January 2020 - Night Howlers | |
| | | TB9NG5H | | mel-whv's Geoswag C&P Club July 2020 - Soar Above | |
| | | TB9NZ1J | | mel-whv's Geoswag C&P Club November 2019 - Spirit of the Wilderness | |
| | | TBVJEH | | mel-whv's Loggerhead Turtle Geocoin | |
| | | TB7XX90 | | mel-whv's Mandarinfisch Geocoin | |
| | | TB7A42V | | mel-whv's Manta Ray Geocoin | |
| | | TB9K2T9 | | mel-whv's NABU Fledermaus Geocoin | |
| | | TB3ARVF | | mel-whv's Rhode Island Horseshoe Crab Geocoin | |
| | | TB75T3K | | mel-whv's Rise of the Ape Geocoin | |
| | | TB3WMAN | | mel-whv's Save the Dolphins Geocoin | |
| | | TB3WX5G | | mel-whv's Sea of Treasures Geocoin | |
| | | TB1MMKX | | mel-whv's Walrus Geocoin | |
| | | TB3W0P4 | | mel-whv's ZeeZee The Turtle Geocoin | |

Protect Nature

| | Icon | Infocode | Picture | Name | |
| --- | --- | --- | --- | --- | --- |
| | | TB10RYM | | mel-whv's April 2006 Geocoin Club Coin - Spring Stained Glass | |
| | | TB7MDYQ | | mel-whv's Aurora Borealis Geocoin | |
| | | TB44YDP | | mel-whv's Forest Kami Geocoin | |
| | | TB2BNCV | | mel-whv's Geocoin Club April 2008 Geocoin | |
| | | TB9DCGB | | mel-whv's Geocoin Club October 2019 - Take a Walk | |
| | | TB3CBW3 | | mel-whv's Ginkgo Leaf Geocoin | |
| | | TB5BT8M | | mel-whv's Marvelous Nature Geocoin | |
| | | TB98RY5 | | mel-whv's National Parks 100 Years Geocoin | |
| | | TB4184A | | mel-whv's Nature's Night and Day Geocoin | |
| | | TB4VFFY | | mel-whv's Ocean Kami Geocoin | |
| | | TB4YQC3 | | mel-whv's Peace Night & Day Geocoin | |